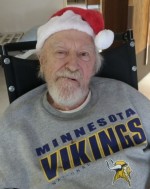 Nickolas (Nick) Mazanyi
January 6, 2019
Nickolas Miklos Mazanyi, "Nick" age 88 of Delano passed away on Sunday, January 6, 2019. He was born January 26, 1930 in Miskolc, Hungary to Miklos and Elizabeth (Mezsaros) Mazanyi.
Nick emigrated with his parents from Hungary in 1951. He attended the University of Minnesota and graduated with a degree in Architecture. He went on to a career working for Red Owl and SuperValu designing new grocery stores until his retirement in 1992. He loved to work with wood, building furniture and cabinetry. He made many family heirlooms over the years.
Nick is survived by his wife of 60 years, Eloise (Knop); children Steven (Sherri) Mazanyi, Susan (Tony Davidson) Mazanyi, Cindy Mazanyi; grandchildren Ben and Noah Fjerstad.
Memorial Services were held at 2 p.m. on Thursday, January 10, 2019 at Mt. Olive Lutheran Church in Delano, Minnesota. Gathering of family and friends took place from 1 to 2 p.m. in the church prior to services.