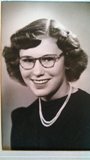 Norma Rose Chadwick
November 18, 2017
Norma Rose Chadwick, forever young of Watertown, left this world as she lived in it; conscious of God, fearless of death and at peace surrounded by her family and friends on November 18, 2017. She was born on September 8, 1932 in Richardton, North Dakota to Ferdinand and Emelia (Renner) Forster.
Norma was a native to North Dakota, but devoted to Minnesota and her family as a resourceful mother and domestic engineer.
Norma was survived by her loving husband Allen; 4 sons Lewis (Laura), William (Ann), Joseph (Nick) and Edward (Lisa); 7 grandchildren Ryan, Victoria (Tony), Ashley, Cory, Kyle, Lily and Charlie; great grandson Connor; brother Erhardt; sister Margaret; many nieces and nephews.
Memorial Mass of Christian Burial was held at 11 AM on Wednesday, November 29, 2017 at the Immaculate Conception Catholic Church in Watertown. A gathering of family and friends was Tuesday, from 4-8 PM and continued Wednesday, from 10-11 AM prior to the Mass, ALL at the church. In Lieu of flowers, memorials preferred to Sharing and Caring Hands: c/o Mary Jo Copeland, 525 N. 7th St., Minneapolis, MN 55405.