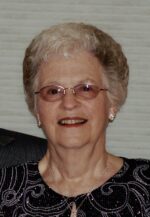 Patricia Theis
August 1, 2022
Patricia Ann Theis age 94 of Delano passed away on Monday, August 1, 2022. She was born December 16, 1927, to Alex and Emily (Berg) Arnold in Watkins, Minnesota.
She met the love of her life, Harold "Pete" Theis, while riding the school bus. They married on June 25, 1949, and were blessed with three children. Pete and Pat celebrated their 70th wedding anniversary a few months before Pete's passing in November 2019.
Pat and Pete made their home in Delano, Minnesota, where they ran a Standard Oil Service Station for 50 years prior to selling it to their son Ken. Pat was the bookkeeper for Pete while he was running the station. She was actively involved in various civic organizations, such as the Delano Fire Department auxiliary and Delano American Legion Auxiliary, as well as volunteering for many local organizations. She and Pete were members of the St. Peter Catholic Church in Delano for over 70 years.
Pat loved to play cards; euchre, cribbage, Wednesday night Bridge Club, penny poker and Tic are just some of the card games that were a staple of her life. The first things Pat's kids and grandkids think of when it comes to their mom/grandma is that she was always taking care of others.
Pat was preceded in death by her husband Pete; parents Alex and Emily; siblings Harold Arnold, Emily Marie Kummet, Eleanor "Tootz" Mihlbauer, Ronald Arnold, Donald Arnold, Sonia Arnold, Kenneth Arnold; many Theis and Arnold in-laws.
She is survived by her children Charles "Chuck" (Kathy) Theis, Kenneth "Ken" (Judy) Theis and Jeanine (Scott) Johnson; grandchildren Shannon Theis, Katelyn Theis (Ryan Frink), Parker Johnson, Faith Johnson; great grandchildren Elliot and Emmet Pruchnik; sister June Loch; sister-in-laws Eileen Arnold and Linda Arnold; brother-in-law George Kummet; many nieces and nephews.
Mass of Christian Burial was held on Tuesday, August 9, 2022, at 11 a.m. at St. Maximilian Kolbe Catholic Church, St. Peter's campus. Visitation took place on Monday, August 8, 2022, from 4 to 8 p.m. with a 3:30 pm rosary service in St. Martha's Hall of the St. Peter campus and continued on Tuesday from 10 to 11 a.m. prior to the Mass. Interment was in the Calvary Cemetery in Delano, Minnesota.