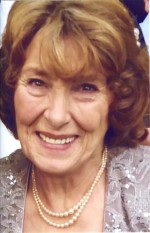 Patricia Fake
August 8, 2019
Patricia Mary Thomson Fake (Johnston), age 77 of Delano, passed away peacefully on August 8th, 2019. She was born on August 23, 1941 at home at Glenkirk Farm in Broughton, Scotland.
Patricia was a strong, stubborn, courageous woman who loved quilting, sewing, gardening, genealogy and antiquing. Most of all, she loved spending time with her family.
Patricia was preceded in death by her parents, William Elvin Johnston and Mary Johnston (Vance). She is survived by her children, Nuscia (Bradley) Veden, Craig Thomson and Trish Thomson McElroy; grandchildren, Kyle (Cara) Veden, Callie (Tyler) Jerde, Jamie Grindle (Kristina), Christopher (SkyAnn) Benedict, Aaron and Robbie Thomson; great-grandchildren, Adalyn and Caden Grindle, Camille Jerde and Kade Veden; siblings, William (Sheila) Johnston, James ( Helen) Johnston and Lynda (William) Johnstone.
A gathering of family and friends was held at the Delano Senior Center on Sunday, August 18th from 2-4pm.
 Family flowers only.