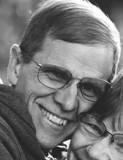 Paul I. Norman
October 12, 2016
Paul Ivan Norman, 62, of Delano, MN, passed away peacefully surrounded by his family in his home on October 12, 2016.
Paul is survived by his wife Pamela of 41 years, son Brad (Michelle), daughter Becky (Andy), daughter Melissa (Jose), son Brian (Melinda), daughter Amanda (Sunil), twelve grandchildren, and many loving nieces, nephews, and extended family. Paul was a loving father, husband, grandfather, and godly friend and influence to all who knew him.
Paul was born in St. Louis, Missouri, on August 1, 1954, as the third child to Max and Patricia Norman. He is survived by his sister Penny (Jim) and his brother Mark (Luana).
Paul was an engineer and loved working with his hands, which included tinkering with cars, Ham radios, and computers. He was also a teacher, mentor, listener, advice giver, joke teller, and problem solver. But more importantly, Paul was a humble man of God who lived his life and used his cancer journey to glorify Jesus Christ and point others to his glorious Savior.
A memorial service was held for Paul at Woodridge Church in Medina on Tuesday, October 18, at 11:00 AM. A time of open mic immediately followed the service for publicly sharing memories and stories about Paul.