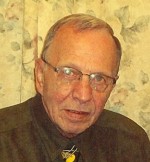 Paul J. Haan, age 78 of Delano, passed away on May 5, 2016. He was born on November 26, 1937 in Kranzburg, South Dakota to Carl and Dorothy (Weiderhold) Haan.
Paul was a loving husband, dad, grandpa and great grandpa. He was also a longtime Graco employee.
Paul was preceded in death by his parents, sister Mary Jacobs, brother Jack Haan and nephews Jon Haan and Alex Haan. He is survived by his wife of 53 years Carolyn; children Kryn (Tom) Forsberg, Lynn Haan and Amanda Haan; granchildren Christopher Sifferle, Kristina Forsberg and Katelyn Anderson; great grandson Dylan Olson; siblings Henry Haan, Carl (Norma) Haan, Dorothy (Larry) Meyer and Carol (Bill) Srstka; sister-in-law LouAnn Haan.
Mass of Christian Burial was 11 am Saturday, May 14, 2016 at St. Peter Catholic Church, Delano. Visitation was Friday, from 4-8 pm with a 3:30 pm Rosary and continued Saturday, 10-11 am prior to Mass ALL at Martha's Hall of St. Peter Catholic Church.