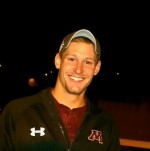 Payton Leonard Schaust
January 3, 2020
Payton Leonard Schaust age 28 of Waconia, formerly of Delano passed away unexpectedly on Friday, January 3, 2020. He was born January 11, 1991 in Waconia, Minnesota to Tammy Tesch and David Schaust.
Payton graduated from Delano High School in 2009 and went to work in the oil fields in Williston, North Dakota. After returning home, he went to work in the Laborers Union working demolition construction in the Twin Cities area.
Payton had a strong sense of humor. He could make you laugh or get your attention. He truly loved farming with his family on the Schaust family farm. He was the true Big Brother to all his siblings. Payton loved to fish, hours and hours, he could sit there all day. Payton was a joy to his family and friends. He was an animal lover, especially his cats.
Payton was preceded in death by his grandmother Maxine Schaust. He is survived by his mother Tammy (Rod) Schmidt, father David (Shellie) Schaust; siblings Cassandra Schaust, twin sister Corbin Schaust, Paige Schaust, Reed Schmidt, Rilie Schmidt; grandparents Al and Connie Tesch, Leonard Schaust; step-brother Ryan Hayes, step-nieces Paisley and Halsey Hayes; fiancé Kelsey Arrigoni; as well as aunts, uncles, cousins and many friends.
Mass of Christian Burial was held on Thursday, January 9, 2020 at 11 a.m. at St. Peter Catholic Church in Delano, Minnesota. Visitation took place on Wednesday from 4 to 8 p.m. with an 8 p.m. prayer service at the Iten Funeral Home in Delano, Minnesota. Visitation continued on Thursday from 10 to 11 a.m. in Martha's Hall of St. Peter Catholic Church. Interment was in the Calvary Cemetery in Delano, Minnesota. In lieu of flowers, memorials are preferred.
"And my heart is sinking like
the setting sun,
setting on the things
I wish I'd done.
It's time to say
goodbye to yesterday. This
is where the
cowboy rides away"
George Strait