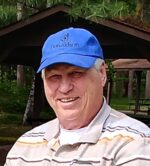 Peter A. Nunnink
October 25, 2021
Peter Arthur Nunnink, beloved husband, father, grandpa, and brother passed away on Monday, October 25, 2021, at age 76. He is survived by his wife of 48 years, Suzan; his daughters Beth Nunnink and Julie Nunnink Koppinger and her husband Nathan; his three grandchildren – Jarred Koppinger, Ian Nunnink, and Jayden Koppinger; his brother Stephen Nunnink and wife Randi; his sister Tricia (Nunnink) Smith and her husband Dan; and his sister Nancy Nunnink Jones. He was preceded in death by his mother and father, Nomi and Clem Nunnink and his brother-in-law A.D. Jones.
Peter spent his career teaching math at Buffalo High School. He loved working with kids. He helped start three varsity hockey programs at Shanley High School (Fargo), Buffalo High School, and Delano High School. He coached hundreds of kids in football, hockey, basketball, and softball including his daughters. He loved his daughters beyond compare and doted on his grandchildren and was the heart of the family. Words cannot express how much he was loved and how much he'll be missed.
Memorial Service was on Saturday, November 6, 2021, at the Delano United Methodist Church. A gathering of family and friends was at 9:30 a.m. and the service at 11:00 a.m. followed by a reception. Please wear a mask. Memorials received will be split to give a scholarship to a senior at Buffalo High School and a senior at Delano High School. A private burial to occur at a later date.
What many of you may not know is that he was fully vaccinated and a constant mask wearer, but contracted breakthrough COVID that killed him. As we celebrate his life, we beg each of you to protect yourself, your family, and your friends and neighbors. Please don't let this tragedy be yours. Please protect those who cannot protect themselves (like Peter). Please get vaccinated and wear your mask. At the gathering and reception, there will be bagged lunches so you can go home or stay to eat, but whatever you do, please be safe.