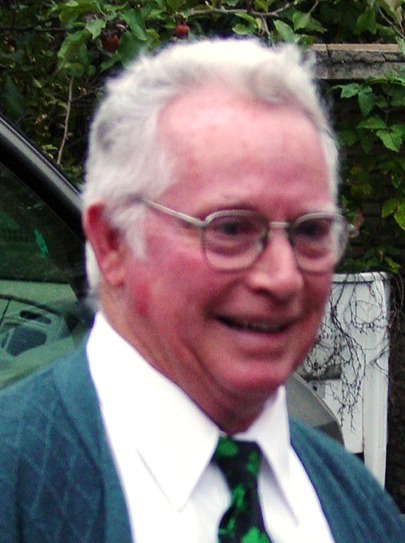 Philip John McDonald, "Flip" age 78 of Hollywood Township passed away on Thursday, January 5, 2012 with his family by his side. He was born September 26, 1933 to Kenneth and Margaret (Burns) McDonald. Flip was the tenth child in the family of eleven. As a baby he was frail and unable to digest food which resulted in a lengthy stay at the U of M hospital. His strong spirit helped him to gain strength and return to the family in Hollywood township. He was in the Navy for four years. He then returned to farm with his brother Joe on the "Old McDonald's Farm" in Hollywood. Flip recently attended the recognition banquet where he was, along with Bill, given the conservationist award of the year for Carver County. Flip celebrated life and enjoyed people. He was a great dancer who attended many wedding dances at the Blue Note in Winsted. He attended School at Holy Trinity in Winsted where he made many friends. He has always attended their class reunions. He liked all sports. He boxed in the Golden Gloves, bowled, played horse shoes, many ball games and as a parent never missed his children 's football , wrestling, baseball, track, gymnastics or volley ball games. Playing cards was always fun for him. Being a part of the church choir provided much fun in the choir practices and furnished as he said, "P.R." He did also love music and theater. He enjoyed and seldom missed High School plays in Watertown and also liked to go to Chanhassen Dinner Theater. His Irish heritage has always been very obvious to all who knew him. St Patrick's Day was a huge day to celebrate with family and friends. Several trips to Ireland resulted in expanding his base of friends. After selling the dairy cows, Flip drove school bus, worked for Green Giant in Winsted, and was the maintenance man and grounds keeper for Immaculate Conception Church in Watertown. He also mowed the cemetery for his "quiet friends". His two greatest joys were his Catholic faith and the family and the grand children. He married Abbie Siefert at St. Patrick's Parish, in Collis, Minnesota on June 20, 1964. They had six children, Patrick, William, Brian, Theresa, Tim and Colleen. Brian was born 1-3-1968 and died 7-16-1968 from a fire that destroyed the family's home. This was a great loss for everyone.
Flip was generous with both friends and family. For many years he did a weekly pick up of bread donated by Machenthuns and then Coborn's for the Friends for Life food shelf in Watertown. He gave freely of his time as a community and church volunteer.
Flip was preceded in death by his son Brian Ewan McDonald; parents Kenneth and Margaret McDonald; sister Dorothy Vidlund; brothers Patrick "Patsy" McDonald, Ewan McDonald and Ed Joe McDonald. He is survived by his wife Abigail (Siefert) McDonald; children Patrick (Terri) McDonald, Bill (Lis) McDonald, Theresa (Bill) Sullivan, Tim McDonald, Colleen (Aaron) Score; grandchildren Vincent McDonald, Brian, Jamie and Nicole McDonald, Sean, Colin and Liam Sullivan; siblings Margaret (Earl) Borer, Sister Rita McDonald, Sister Kate McDonald, Sister Brigid McDonald, Sister Jane McDonald; K.J. (Barbara) McDonald; brother-in-law Elroy Vidlund; as well as many cousins nieces, nephews and friends.
Mass of Christian Burial was held on Monday, January 9, 2012 at 10 a.m. at Immaculate Conception Catholic Church in Watertown, Minnesota. Rev. Joseph Fink and Rev. Frank Wampach celebrated the Mass with interment in the church cemetery. Military honors were provided by the Watertown American Legion Eugene Earley Post #121.
Memorials preferred in lieu of flowers.