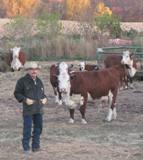 Ralph J. Gallus
November 25, 2019
On November 25, 2019 at the age of 86, peacefully sitting at his kitchen table in the same home he was born, Ralph J. Gallus passed into the gates of heaven. Ralph was born February 1, 1933 in Franklin Township, Wright County to Joseph and Blanche (Fautsch) Gallus.
Ralph married Shirley Keeler at a very young age. They had eight children and farmed together on the original Gallus homestead. Together they raised registered Holstein Cattle as well as Registered Quarter Horses. He also enjoyed raising Hereford Cattle–it was his Montana side this Minnesota guy never quite got to experience!!!
Ralph is survived by his children Joy (Jim) Hickman, Joe (Sue) Gallus, Deb (Jeff) Becklund, Shirley (Tim) Kallunki, Shawn Karl and John (Bev) Gallus; son-in-law Tony Swartzer; 24 Grandchildren and 43 Great-Children!
Ralph was preceded in death by his wife Shirley; daughters Sandra Swartzer and Molly Gallus.
Memorial Mass of Christian Burial was held at 11 AM on Monday, December 2, 2019 at Immaculate Conception Catholic Church in Watertown. A gathering of family and friends was Monday, from 9 – 11 AM prior to the Mass at the church. Inurnment at a later date in the church cemetery.
Please in lieu of Flowers, memorials sent to Jack's Basket, Celebrating babies with Down Syndrome. Mail to: Jack's Basket, 2960 Snelling Ave. N L-105: Roseville, Mn 55113.