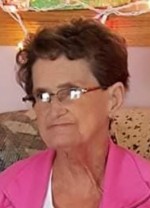 Raylene Erickson
February 6, 2019
Raylene R. Erickson age 78 of Delano, passed away on Wednesday, February 6, 2019. She was born August 27, 1940 to Theophil and Verna (Renfrow) Just in Mercer, North Dakota.
Raylene was a loving mother, grandmother and great grandmother. She was preceded in death by her husband Earl; siblings Martin Just and Fred Just. She is survived by her children Rodger (Mary) Erickson, Byron Erickson, Lori (Larry) Burns, Bev (John) Gallus; 8 grandchildren: Andy (Tanya) Erickson, Melissa (Nate) Schneider, Matthew Erickson and Wally Brink, David Burns, Chad (Sunny) Erickson, Trevor Erickson and fiancé Sam Outley, Christopher Gallus, Dillon Erickson and fiancé Jenifer Conner; 6 great grandchildren: Caleb and Bryce Erickson, Colton, Aubrey and Brynley Schneider, Easton Erickson; siblings Lloyd (Elaine) Just, Gerhart (Marlene) Just; sisters-in-law Denise Just, Colleen Just.
Memorial Services were held at 11 a.m. on Saturday, February 16, 2019 at the Delano Senior Center. Gathering of family and friends took place from 10 to 11 a.m. on Saturday prior to services. Inurnment will take place at a later time at the Delano Public Cemetery.