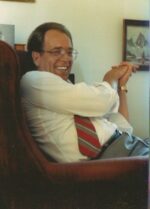 Raymond G. Maijala
December 30, 2022
Raymond Gordon Edward Maijala went to his final reward on Friday, December 30, 2022. Ray was born on July 20, 1940 in Otto Township near New York Mills to Toivo (William) & Helmie Maijala. Ray was shaped by his family, especially his nine older siblings, and the Finnish community of New York Mills where he grew up. He played baseball and worked at the local bowling alley setting pins; he created some mischief with his brothers Gary and Rueben and learned how to draw anyone into a conversation with his charismatic storytelling and smile.
The playful charmer met his cheerleading love, Dorothy Mae (Karvonen), while they both attended New York Mills High School. They married in 1960, living in Minneapolis, then in California before returning to Minnesota for good in 1971. Dorothy's sisu (Finnish perseverance) was a perfect partnership for Ray's sense of humor and insistence on hard work. Together they raised one daughter and three sons, taking great joy in watching their family grow to include grandchildren and great-grandchildren. They bowled and played cribbage together, keeping track of their scores on the back of the board so they always knew who was ahead.
Ray took seriously making a life for his family and carried that with him in his work. Building his career at Lutheran Brotherhood (now Thrivent), Ray was an insurance salesman and financial planner in the Twin Cities. He would take the family on cross country trips to the company conventions, the last one to Florida in 2003 where Ray was inducted into the Thrivent Hall of Fame for his success and dedication to the families he served for over 35 years.
Balancing his work hard approach to his job, Ray enjoyed down time bowling at Texa-Tonka for nearly 50 years and at national tournaments with his brothers Gary and Mac (Rueben). Ray bowled a perfect 300 during his league days, but one of his proudest bowling accomplishments was sharing his love of the game (and his competitive spirit) with his boys who are still often comparing their latest averages. Ray enjoyed golfing with the boys, collecting and rebuilding cars and watching Minnesota sports, even though they are a constant disappointment. He loved his extended family deeply and had a tremendous bond with his kids, especially his daughter Renee.
The Church was important to Ray, offering him both a space to nurture his faith and share his kind spirit with others. Whether it was participating in weekly services, supporting the church youth, having quiet conversations with the pastor, or generously donating his time and skills to support Lyndale Lutheran. This past summer Ray was still volunteering to mow the church lawn on a regular basis. For over a decade, Ray made wooden crosses as gifts for family and members of the church as a reminder of Christ's love and devotion. May Ray's memory forever be a blessing.
Ray is preceded in death by his wife Dorothy; parents Toivo & Helmie; sisters Elsie Bajumpaa, Ruth Selle, Ethel Paavola, Mildred Anderson, and Edith; brothers Roland, Rudy, Rueben and Gary Maijala. He is survived by his children Renee (Martin) Leckscheid, Michael Maijala, Steven (Joanne) Maijala, Kevin (Amelia) Maijala; 5 grandchildren; 3 great-grandchildren; cats Shelby and Pepper, and many close relatives and friends.
A funeral service was held on Saturday, January 7, 2023, at 11:30 at Lyndale Lutheran Church, with a visitation that took place for one hour before the service. Interment will take place on January 14, at Woodland Cemetery in New York Mills.
Memorials can be made to the Maijala family, or to Lyndale Lutheran in his name.