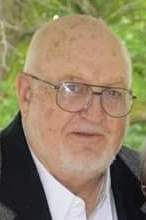 Robert E. Hayes age 81 of Annandale and Perham went to be with the Lord on Wednesday, March 18, 2015 after a courageous battle with cancer surrounded by his family. He was born January 19, 1934 to Alva "Mike" and Virginia (Lundberg) Hayes in Franklin Township, Minnesota.
Robert was an avid outdoorsman, enjoying hunting and fishing. He and his wife managed All Seasons Resort in Big Lake and Elkhorn, Wisconsin. He also owned a bait shop in Perham for a number of years called Northside Bait. Robert served in the Army in the 172nd Chemical Corps being stationed in England in the mid 1950's.
He was fond of all sports types and was a gifted basketball player serving his country in the Army and playing basketball throughout Europe.
Robert was preceded in death by his parents Alva and Virginia Hayes. He is survived by his wife Joanne; daughter Jody (Nick) Wittrock; grandchildren Matthew, Zachary and Brandon; great grandchildren Kayla and Lacey; sister and brother-in-law Marilyn (Ron) Harter; niece and nephew Craig Harter and Christine (Joe) Buschel, great niece Angelina.
A memorial gathering was held on Friday, March 27, 2015 from 4 to 8 p.m. at the Iten Funeral Home in Delano, Minnesota. Inurnment services with military honors was held on Saturday, March 28, 2015 at 11 a.m. at the Kreidler Cemetery in Rural Montrose, Minnesota.
A special thank you to the Guardian Angels Hospice Care.