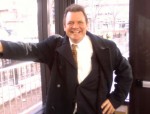 Robert Jaunich
June 13, 2018
Robert Steven Jaunich, age 47 of Delano, passed away on June 13, 2018, after a long and difficult battle with addiction.
Robbie was born in Watertown, Minnesota on September 9, 1970, the first child of Steven and Charlene (Branson) Jaunich. Robbie grew up in Delano and graduated from Delano High School in 1989. He was a gifted athlete, playing football, basketball, and baseball. He continued to play baseball and softball throughout his adult life.
Robbie has been a member of the Local BAC 1 MN/ND Union since 1992 working as a mason. He was thrilled to be given the opportunity to work on various projects that included the U.S. Bank Stadium, Target Field, the Mall of America, and the Minnesota State Capitol.
Robbie loved spending time with his family, cooking and grilling, going to baseball games, attending car shows with his dad, and spending time at the beach with his girls. Robbie had a contagious smile and an amazing sense of humor, with a knack for making everyone laugh.
Robbie was preceded in death by his paternal grandfather Wallace Jaunich, maternal grandmother Leona (Roehl) Branson, uncles Charlie Jaunich and Mike Czock, and cousin Aaron Jaunich.
Robbie is survived by his parents Steven and Charlene (Branson) Jaunich, his wife Peggy Wolff, daughters Abbie and Ella Jaunich, stepchildren Asia, Maggie, Olivia, and Elijah Wolff, and granddaughter Zola, paternal grandmother Eldoris (Krause) Jaunich, sister Amy (Tony) Poppler, brothers Kevin (Laura) Jaunich and Adam Jaunich, nephews and nieces Grayson, Cecilia, Louisa, Penelope, and August, mother of his children Amy Farniok, and godparents John (Anita) Branson and Monie (Jim) Pierce. Robbie will be greatly missed by several aunts, uncles, cousins, extended family members and friends.
Gathering of family and friends was held on Tuesday, June 19th, 2018, from 4-8 p.m. at Martha's Hall of St. Peter Catholic Church in Delano, Minnesota. Gathering continued on Wednesday from 10 to 11 a.m. in Martha's Hall prior to the Mass. Memorial Mass of Christian burial took place at 11 a.m. on Wednesday, June 20, 2018 at the St. Peter Catholic Church in Delano. Inurnment was in the St. Joseph Cemetery, in Delano, Minnesota.