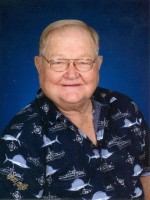 Robert (Bob) Anderson
September 6, 2020
Robert Vernon Anderson, "Bob" passed away on Sunday, September 6, 2020. He died at home, which was his dearest wish. He was born on June 25, 1934 in Minneapolis, Minnesota as the third child to Clarence & Ruth Anderson, both deceased. He was also preceded in death by his siblings Phyllis Johnson, Donald Anderson and David Anderson.
Bob graduated from Belle Plain High School and started farming with his father. He married Beth Heitkamp and they had 8 children. After their divorce, he married Clarice Bengtson Johanson who had 3 children. Their house was full and they made room for all. They would have celebrated 50 years together in March 2021.
Bob was a farmer, Culligan Man, Hopkins City Parks worker and most importantly- Dad. He loved to watch the Minnesota Twins, fish, play cribbage and see North America in their RV. Another activity that Bob and Clarice enjoyed was square dancing. After retirement, he and Clarice split their time between Calvary Center Cooperative in Golden Valley, Minnesota and Bit of Heaven RV Park in Donna, Texas. Bob and Clarice were active members of Gethsemane Lutheran Church in Hopkins, Minnesota as well as St. John Lutheran Church in Donna Texas. They made friends everywhere they went. He loved to tell terrible jokes and we laughed (or groaned) at them with glee. His family looked for Ole & Lena joke books to add to his repertoire.
Bob leaves behind his wife of almost 50 years, Clarice; children: Dana (Tina) Anderson, Deb (Dan) Meyer, Kim (Dan) Knutson, Becky (Doug) Schaust, Brian (Lori) Anderson, Cindy (Tim) Iten, Pam (Bob) Meier, Tracy (Theresa) Anderson; step-children: Steve (Jennifer) Johanson, Mark Johanson, Lianne Johanson. With all those children there are lots of grandchildren: Leah (Dennis) Roesch, Luke Anderson, Mara Anderson, Seth (Laura) Meyer, Jacob (Christina) Meyer, Nathan (Katie) Meyer, Kelsey Knutson, Rob (Jennifer) Schaust, Ryan (Kelli) Schaust, LeighAnn Bethke, Lesley (Ben) Berscheid, Chris (Andrea) Anderson, Leighton (Rachel) Bender, Kory Bender, Zachary Iten, Edmund Iten, Matthew Iten, Allison Anderson, Nolan Anderson, Patrick Anderson, Ian (Sarah) Johanson, Patrick (Brittany) Johanson, Megyn Johanson; great grandchildren: Hannah Roesch, Maya Roesch, William Meyer, Joy Meyer, James Meyer, Finn Meyer, Piper Meyer, Heidi Meyer, Benjamin Meyer, Connor Schaust, Sloane Schaust, Micah Stoppelman, Tuff Stoppelman, Isabelle Stoppelman, Brooklynn Bethke, Brogan Stoddard, Taylor Jo Berscheid, Norah Berscheid, Cameron Berscheid, Blair Berscheid, Samantha Bender; great great grandchildren Scarlett Kufahl and Bryson Bell. They will dearly miss "Super" Papa and riding on his red scooter with him.
Due to the pandemic, a private service was held at Gethsemane Lutheran Church in Hopkins, Minnesota.
Memorials are preferred to Gethsemane Lutheran Church of Hopkins or Calvary Center Cooperative.
The private service was recorded, and can be watched through the link provided below, or through Gethsemane's YouTube Page.