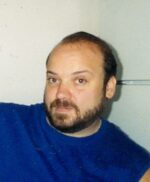 Ronald C. Emery
June 3rd, 2022
Ronald "Ron" Charles Emery, age 56 of Buffalo, passed away on June 3rd, 2022. He was born on June 3rd, 1966 to Charles and Lillian (Thibodeau) Emery.
Ron was the most caring, genuine man with the biggest heart. He thoroughly enjoyed helping others. Ron will be greatly missed by all the lives he touched with his kindness.
Ron was preceded in death by his father Charles. He is survived by his mother Lillian; siblings Vickie Berry, Rick (Leann) Emery, and Trish (Dan) Bock; 1 niece and 2 nephews; as well as many extended family and friends. Ron is further survived by the great community he was a part of at The Village Place apartments in Buffalo, Minnesota.
Memorial Mass of Christian Burial was at 11 AM on June 18th, 2022 at Ss Peter and Paul Catholic Church in Loretto, Minnesota. Visitation was held prior to the Mass from 10:00 – 11:00 AM, all at the church. Inurnment immediately followed at St. Jeanne de Chantel Catholic Cemetery in rural Corcoran, Minnesota.