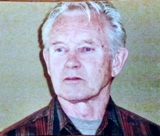 Ronald G. Vieths
April 13, 2017
Ronald Gilman Vieths was born October 22, 1940 in Farmington, Minnesota, to Gilman L. Vieths and June (Louk) Vieths. He graduated from Minnetonka High School, and then joined the US Army, where he served in the Signal Corp. During that time he married Doris "Dee" Cameron on August 18, 1962. He was honorably discharged after 10 years and then sold cars for the next 15 years. He then started working for the US Post Office in St. Paul, Minnesota, from which he retired. In that time he also went back into the US Army Reserve, where he served another 13 years and retired with a total of 23 years of military service. Ron's favorite hobbies were fly fishing and tradio.
He is survived by his wife of 54 years, Dee; 6 sons Ronald (Robyn), Randall (Carla Spizzo), Stephen, Michael (Debbie Hilde), David (Kim), Kenneth (Heather); 23 grandchildren; 24 great grandchildren; 4 brothers Richard Vieths, John (Jan) Murch, Timothy (Cheryl) Murch, William Murch; sister Bonnie (Bert) Notermann; sister-in-law Diane Desautel; brothers-in-laws Dayton Cameron, Wayne Cameron and many nephews and nieces.
Ronald was preceded in death by his parents Gilman and June; sister Sharon Bisek; brother Robert Vieths; brother-in-law Donald Bisek; sister-in-law Patt Vieths; granddaughter Karissa Vieths.
Ronald passed away Thursday morning, April 13th, at the age of 76, after a long tough battle with Amyloidosis, with his wife Dee at his side.
Visitation was Monday, April 17, 2017 from 4-8 p.m. with a 7 p.m. Prayer Service at the Iten Funeral Home in Delano. Inurnment with Military Honors took place at 10:15 a.m. on Friday, June 30, 2017 at the Fort Snelling National Cemetery in Minneapolis. Meet at Assembly Area #3 at 10 a.m. In Lieu of flowers, memorials preferred.