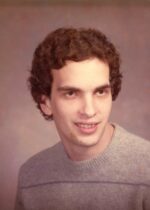 Ronald Stotko
July 31, 2022
Ronald John Stotko age 60 of Delano passed away on Sunday, July 31, 2022, after a courageous battle after a stroke. He was born April 16, 1962, to John "Jack" Stotko and Delores Bernick in Delano, Minnesota.
Ron was quiet, gentle, and hardworking man. He followed his families' footsteps and became a carpenter, joining a long list of carpenters. Ron enjoyed spending time riding his motorcycle and spending time with family and friends. He was a constant to his family and anyone that needed help.
Ron was preceded in death by his father John Stotko, brothers David Joyce and Bruce Stotko. He is survived by his mother Delores (Noel) Joyce; niece and nephew Marissa Stotko and Justin Stotko.
Mass of Christian Burial was held on Thursday, August 4, 2022, at 11 a.m. at St. Maximilian Kolbe Catholic Church, St. Peter's campus in Delano, Minnesota. Visitation took place from 10 to 11 a.m. on Thursday prior to the Mass in Martha's Hall of the St. Peter Campus.