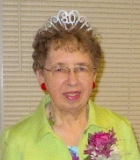 Rose Ann Motzko
October 20, 2018
Rose Ann Motzko, age 82 of Watertown, passed away peacefully on Saturday, October 20, 2018 at the Lake Ridge Care Center in Buffalo. She was born on May 13, 1936 on the Motzko Family Farm in Franklin Township to Charles and Mary (Babatz) Motzko.
Rose Ann was baptized and confirmed at St. Mary of Czestochowa Catholic Church near Delano. She was a life-long member and held many positions there including organist, directing the choir, bulletin editor and scheduling masses, to name a few. She was very dedicated to God and her church.
Rose Ann was a graduate of Delano High School and just recently attended a class reunion. She spent most of her adult life as a pharmacy technician at the Watertown Pharmacy. She also worked at the Watertown Hardware Store and various businesses in Watertown. Through her life-long work in Watertown and the church, she has many friends in the community.
Rose Ann grew up on her grandparents' farm, where she developed her love for the garden. She was always proud of her flowers. She moved with her mother, after her father's passing, to Watertown. After semi retiring, she enjoyed being with her friends at the Senior Center, going to dinners, day trips and playing cards.
Rose Ann was preceded in death by her parents Charley and Mary. She will be sadly missed by her family, her church family and many friends and neighbors.
Mass of Christian Burial was held at 11 AM on Wednesday, October 24, 2018 at St. Mary of Czestochowa Catholic Church, Delano. Visitation was on Tuesday, 4-8 PM with a 7:30 PM Rosary service and continued Wednesday, 10-11 AM prior to Mass all at the church. Interment was in the church cemetery. In lieu of flowers, memorials preferred.
Arrangements by the Iten's Watertown Funeral Home.