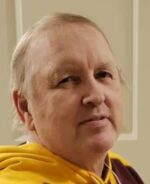 Russell "Russ" Lewis Smith
January 27, 2021
Russell "Russ" Lewis Smith, age 72, of Maplewood, passed away January 27, 2021 at Methodist Hospital in St. Louis Park. Russell was born in Virginia, MN on June 26, 1948 to Lillian Maude (Lahti) and William Thomas Smith. He graduated from Mountain Iron High School in 1966. While in college, Russ met his beloved wife, Patricia. Russ claimed they "had chemistry" in physics class, where they were lab partners. Russ and Pat were married in 1971 and made their home in Embarrass, MN. After working as an electronics technician for 12 years at Minntac, Russ and Pat moved their family to Maplewood, MN where Russ worked at 3M for 31 years, serving as union steward for part of that time, and retiring in 2015.
A lifelong Twins and Vikings fan, Russ was well informed on politics, both current and historical. He was a devoted volunteer at the MN State Fair DFL mini donuts booth for many years. Russ maintained relationships throughout his life in his MN communities of Embarrass, Virginia (Parkville) and Maplewood.
Survived by son, Jacob William Smith (Joan) of Fridley, MN, daughter Siiri-Aline Sutphen (Rick) of Watertown, MN, brothers Bruce Smith (Gwen) of Fergus Falls, MN, Charles Smith (Terri) of Mesa, AZ, and grandchildren Jacob Smith, Jr. (Briana) of St. Cloud, MN, Adryan Smith of Plymouth, MN, Zackery Smith of Anoka, MN, and Emma Sutphen of Maplewood, MN, as well as many loving nieces, nephews and relatives. Preceded in death by his parents, beloved wife, Patricia (McElderry) Smith, sister Lynnal (Smith) Popilek, and brother Warren Smith.
Remembrances and photos may be posted on Facebook page: Remembering Russell Smith. A Celebration of Life will be held September 11, 2021 in Virginia, MN. Memorials preferred to MN DFL party (or to donor's favorite charity).