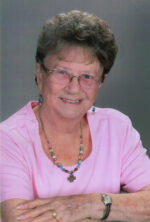 Sadie L. Theisen (Mara)
September 13th, 2022
Sadie L. Theisen, age 91 of Delano, Minnesota, died on Tuesday, September 13, 2022. She will be welcomed with open arms by her husband, Francis, who she has missed since his passing on August 31, 2018. She was also preceded in death by her parents John and Nelsina (Hanson) Mara, sister Betty Jane, and brother Jack.
Sadie will be lovingly remembered by her daughters Claudia (Denny) Goranson, Rhonda (Kurt) Saler, Barbara (Robert) Seliski, and Donna (Joe Hannan); nine grandchildren, and thirteen great-grandchildren.
A Mass of Christian Burial was held at 11 AM on Friday, September 16, 2022, at St. Maximilian Kolbe Catholic Parish, St. Peter campus in Delano, Minnesota. Visitation was from 10-11 AM prior to the Mass. A private family interment took place in Calvary Cemetery in Delano, Minnesota.