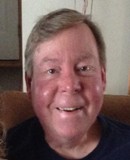 Shea D. Johnson
September 26, 2017
Shea Darrow Johnson, age 58 of Rogers, passed away on September 26, 2017. He was born in Detroit Lakes on October 13, 1958 to Gerald and Mary Joyce (Kirkness) Johnson.
After graduating from Osseo High School, Shea moved to California and worked for Mervyn's Department Store for 5 years. He met his future wife Chrystal in Chico. They moved to Minnesota and were married in 1984.
Shea was a wonderful husband, father and grandfather. He loved cars, especially his muscle cars.
Shea was preceded in death by his parents. He is survived by his wife of 33 years, Chrystal; children Charisse (Moses) Puetz, Curtis Meriam and Christopher Johnson; 4 grandchildren Savanna, William, Beckett and Theodore; brother Kirk Johnson.
Memorial Service was held on Friday, September 29, 2017 from 11 AM – Noon at the Iten Funeral Home in Delano. In lieu of flowers, memorials preferred. The family will be making a donation to ALS Association.