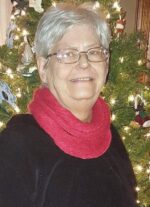 Sheila A. Seth
May 15th, 2022
Sheila Ann Seth, age 68 of Winsted, passed away on Sunday, May 15, 2022. She was born November 12, 1953 to Philmor and Evelyn (Salonek) Bjork in Watertown, Minnesota.
Sheila was a loving mother, grandmother and friend. She loved to spend time with her daughters, grand kids, and close friends. She grew up in Watertown and graduated from Watertown High School in 1972. She was united in marriage with Mark Seth and they made their home in Watertown in the very house she grew up in.
Sheila was preceded in death by her husband Mark Seth; sister Darlene (Bjork) Guennigsmann; brother-in-law Clyde Guennigsmann.
She is survived by her daughters Sheri Bjork and Charlotte Seth; grandchildren Mitchell, Aubrie, Nevaeh, and Antwain; and a number of friends and relations.
A Celebration of Life took place on Friday, May 20, 2022 at 5 p.m. at the Iten Funeral Chapel in Delano, Minnesota. Gathering for family and friends from 4 to 5 p.m. prior.
In lieu of flowers the family is asking for donations to help cover costs of funeral.