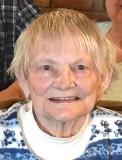 Shirley A. Johnson
October 3, 2019
Shirley A. Johnson, age 89 of Delano passed away Thursday, October 03, 2019 at Ridgeview Medical Center in Waconia with her daughters by her side. She was born on January 28, 1930 in Minneapolis to Seward and Jeanette (Brabant) Fitch.
Shirley married Roy Johnson in 1950 in Minneapolis. She was a very active, lifetime member of the VFW Auxillary. She also enjoyed playing bingo.
Shirley was preceded in death by her husband Roy; sons Kurt and Gary; parents; sister Gladys Belden; brother Earl Fitch. She is survived by her daughters Susan (Dallas) Muchow, Jeanette (Roger) Wendorff, Jody (Marion) Limbacher; 9 grandchildren; 12 great grandchildren; 3 great great grandchildren.
A private family inurnment was held in Glenhaven Memorial Gardens in Crystal, MN.