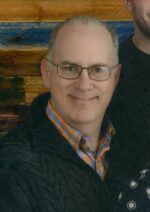 Stephen (Steve) Boerner
December 7, 2020
Stephen Edward Boerner, "Steve" age 56 of Watertown, MN died of an unexpected heart attack on December 7, 2020. He was born July 2, 1964 in Litchfield, MN to Fred and Helen Boerner.
Steve graduated from Litchfield High School in 1982 and four years later from St. John's University, where he obtained his BA in Economics in 1986. At CSB/SJU Steve met Chris Morris (Glenwood HS Class of 1982), marrying her in 1987. After nine years in South Minneapolis, the Boerner's moved to Watertown, closer to rural roots and family. The golden thread through their journey together, including 33 years of marriage, has been a deep love and practice of the Catholic faith.
Client Service Consultation for Institutional Retirement & Trust was Steve's special forte. A personable, caring and skilled team manager, Steve and colleagues stayed "put," but under ever-changing names: IDS, Ameriprise, Wachovia, Wells Fargo … and soon-to-be Principal Financial. He recently viewed his Wells Fargo 30-year commemorative cube with a touch of humor, recalling no less than six "migrations."
Family, friends and Chris in particular, admired Steve's financial management gifts, but above all, his soft, calm ways that always included wit and wisdom. A true lover of nature, Steve loved to bike and cross-country ski. He shone brightest when planning and executing Boundary Waters expeditions which included wife, Chris and sister, Kathy. As for the annual Cedar Point Resort vacation near Marcell, MN now spanning four decades, Steve missed only one the summer Casey was due. Steve gave new meaning to loving friend, husband, father, protector and provider.
Steve was preceded in death by his parents, Fred & Helen Boerner; brother-in-law, Raymond Odigie and father-in-law, John "Jack" Morris. He is survived by wife, Chris; daughter, Casey (fiance, Sam Shay); son, Jay; sisters, Mary, Joan and Barb Boerner; brother Mike (Deborah) Boerner and children Miah (Chris), Patrick, Jenny and Abbie (Tim); mother-in-law, Dorrie Morris; sisters-in-law, Kathleen Morris, Liz (Kevin) Otto and children, Michelle Odigie and children; and brother-in-law, Patrick Morris, along with many additional family and friends. Steve will be especially missed by his close St. John's friends, his Wells Fargo family, and finally, the ICC and Watertown community members he loved and served in multiple ways.
Private Mass of Christian Burial observing COVID restrictions was held on Friday, December 11, 2020 at 11 AM at Immaculate Conception Catholic Church in Watertown. All memorials written to or accepted by Iten Funeral Home with later release to the family.
A video of Stephen's service can be found on the Immaculate Conception Church's Facebook page, or through the link provided below:
https://fb.watch/2jRb428ihD/