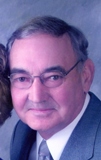 Stephen J. Bauman
May 6, 2019
Stephen James Bauman went to live in the presence of our Heavenly Father on Monday, May 6th, 2019. He was born January 12th, 1938. Born to Herbert and Catherine (Muckenhirn) Bauman, he was their tenth out of twelve children. Steve grew up on the family farm west of Delano, Minnesota. He was baptized and confirmed at St. Peter's Catholic Church, attended their parochial school, and graduated from Delano High School. He married Darlene Host May 24th, 1965 in Long Prairie, Minnesota. He worked at Clover Leaf (later Kemps) creamery for 35 years. Together with his wife raised a family, worked a hobby farm, operated a tree business, and enjoyed dancing, chasing bluegill, hunting, non-traditional repairs around the homestead, volunteering at church, and spending time with his grandchildren.
Steve was preceded in death by his parents, Herbert and Catherine Bauman; his brothers, Joseph, John and Clarence Bauman; his sisters Catherine Bauer, Rita Schmitz and Dorothy Jean Griep; his brothers-in-law Dan Bauer, Peter Schmitz, William Metz, Clarence Stein and Jack Gillis; and his sisters-in-law Marcella Bauman, Patricia Bauman and Jean Bauman.
Steve is survived by his wife, Darlene; children, Kyle Bauman, Kendra (Dave) Leibel, Shantel (Robert) Zimmerman, & Darys (Paula) Bauman; and eight grandchildren, Anneliese Bauman; Maria, Kayla & Anna Leibel; Levi & Lauren Zimmerman; Evan & Wyatt Bauman.
Steve is further survived by brothers Lawrence (Annie) Bauman, Robert (Helen) Bauman, and Anthony Bauman; sisters  Caroline Metz and Rosemary Gillis; and brothers-in-law and sisters-in-law Jerry Griep, Judy Stein, and Allan (Mariann) Host. He is also survived by many, many nieces and nephews.
A Memorial Mass of Christian Burial was held at 11 AM on Friday, May 17, 2019 at St. Peter Catholic Church in Delano. Gathering of family and friends was on Thursday, from 4-8 PM with a 3:30 PM Rosary service and continued Friday, 10-11 AM prior to the Mass, all in Martha's Hall of St. Peter Catholic Church. Inurnment was in Calvary Cemetery in Delano. In lieu of flowers, memorials preferred.