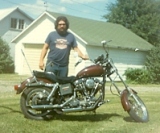 Steven Schumacher
January 8, 2017
Steven Adam Schumacher, "Steve" age 62 of Delano passed away unexpectedly on Sunday, January 8, 2017. He was born January 26, 1954 to Clement and Rose (Bukowski) Schumacher in Buffalo, Minnesota.
Steve graduated from Delano High School in 1972. He was a longtime employee of Industrial Louvers in Delano. Steve loved to fish and to go on fishing trips with his buddies. He was a nice guy and was known as a people person.
Steve was preceded in death by his parents Clem and Rose Schumacher. He is survived by his siblings Jeannine Schumacher, Mary (Lee) Dupont, Fran (Bob) Bullock, Michael (Joanne) Schumacher, Sharon (Scott) Offerman; as well as many nieces, nephews, cousins and friends.
Memorial Mass of Christian Burial was held on Tuesday, January 17, 2017 at 11 a.m. at Ss. Peter and Paul Catholic Church in Loretto, Minnesota. Gathering of family and friends was in the church from 10 to 11a.m. prior to Mass on Tuesday. Inurnment took place in the church cemetery followed by a reception at the church parish center.