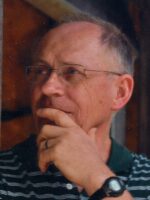 Steven H. Crosby
December 30, 2021
Steven Henry Crosby, age 71 of Delano passed away on Dec. 30, 2021.  The middle child of Cyril and Marie (Thelemann) Crosby; he was born June 23, 1950 in St. Peter, MN, and grew up on a farm outside of Belle Plaine in Blakely Township.
Steve graduated from Belle Plaine High School in 1968 and Mankato State College in 1972, then taught for six years at Rockford High School.  Steve married Judy Mielke Doering, November 23, 1979.  His career then led him into private industry work at Research Inc. for 21 years, as well as time at Varidigm Corp and Rosemount.
He was preceded in death by his parents, sister-in-law Carolyn, nieces Kathleen and Laura; six grandchildren.  Steve is survived by his wife Judy; brothers Clinton (Linda), Gary (Lynn); sons Daryl (Liz) and William (Anita); granddaughters Anne (Matt), Ellen (Dan); grandson Max and great grandson James; nieces Karen, Amy; nephews Brandon, Travis (Molly), Douglas.
Steve had a strong belief in God and served others through his selfless acts of time, treasure and talents to his family, faith community and community at large.  "Thank you, Mom and Dad for farm life, getting to use Oliver tractors and the support of the Northland Oliver Collector Association members. God bless."
A celebration of life was held at 11 a.m. on Saturday, May 7, 2022 at St. Paul's United Church of Christ in Delano. A gathering of family and friends was from 10-11 a.m. prior to the service at the church. A reception followed the service.