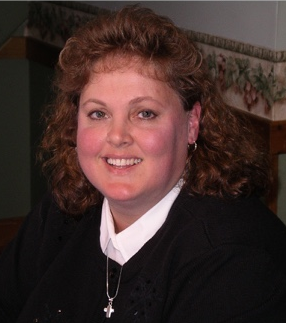 Susan Aline Daggett age 53 of Eden Prairie, formerly of Watertown went to be with her Lord and Savior on Sunday, November 30, 2014. She was born to Charles and Janice (Seaver) Daggett in Minneapolis, Minnesota.
Susan was a loving daughter, sister, aunt and friend to many. She was employed as a receptionist at Park Nicollet upon her death. Susan loved spending time with her family, listening to music, and the companionship of her two cats and her dog Daisy.
Susan was preceded in death by her father Charles; brother Charles Jr.; grandparents Harley and Sylva Daggett and Ray and Aline Seaver; uncles Jack Seaver and Dean Seaver.
She is survived by her mother Janice; brothers Peter (Wendy) Daggett, Patrick (Suzanne) Daggett; nieces and nephews Emily, Sam, Dustin, Conrad, Corrin and Thomas.
Memorial services were held on Friday, December 5. 2014 at 1:30 p.m. at the Watertown Evangelical Free Church in Watertown, Minnesota. Gathering of family and friends was held in the church from 12:30 to 1:30 p.m. on Friday prior to the services. Memorials to go to Watertown Evangelical Free Church.