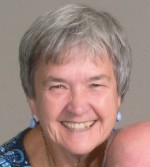 Susan (Sue) Topel
June 29, 2018
Susan Mary Topel, "Sue" age 64 of Delano passed away peacefully on Friday, June 29, 2018 with her family by her side after a courageous battle with stomach cancer. She was born April 24, 1954 to Roger and Lida (Zitzloff) Ruud in Spring Lake Park, Minnesota.
Sue was united in marriage to Fred Topel on October 18, 1975 at St. Peter Catholic Church in Delano, Minnesota. Sue was a loving wife, mother and devoted grandmother. She loved to fish, decorate cakes and bake. She loved her dogs and spending time with family, especially her grandchildren. Sue and Fred owned and operated a dairy farm together where they raised their three children. Sue was a mom to a lot of people. She had a heart of gold. Nothing could take her down. She was the glue that kept the family together.
Sue was preceded in death by her parents Roger and Lida Ruud and her sister Sandy Hughes. She is survived by her husband Fred; children Jeremy (Dawn) Topel, Amy (Karen) Topel, Valerie (Reid) Becker; 2 grandchildren Ilijah Topel and Isabel Becker; siblings Chris Stearns, Richard (Roxi) Ruud, Morris (Diane) Ruud, JoElla (Bill) Kath, Cindy (Bob) Olsen, Cheryl Keene, Chuck (Beth) Ruud, and Trisha Ruud; mother-in-law Dorothy Topel; sisters-in-law Dianne Hertell, Kathy (Henry) Chesley, Linda (Gary) Topel; as well as many nieces, nephews, cousins and friends.
Memorial Mass of Christian Burial was held on Friday, July 6, 2018 at 11 a.m. at St. Peter Catholic Church in Delano, Minnesota. Gathering of family and friends took place on Thursday from 4 to 8 p.m. in Martha Hall of St. Peter Catholic Church and continued on Friday from 10 to 11 a.m. prior to the Mass. Inurnment was in the Calvary Cemetery in Delano, Minnesota. In lieu of flowers, memorials preferred to "no stomach for cancer" www.nostomachforcancer.org