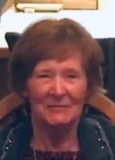 Sylvia M. Altendorf
December 19, 2019
Sylvia M. Altendorf, age 84 of Maple Grove, formerly of Loretto passed away on December 19, 2019 with family by her side. She was born on April 27, 1935 in Laketown Township, Minnesota to Henry and Isabelle (Glatzel) Rademacher.
Sylvia was united in marriage to Alfred L. Altendorf in 1955. They enjoyed family and many fun trips together or a good game of cards.
Sylvia was preceded in death by her husband of 59 years, Al; children Nancy, David, Mary in infancy and Joseph in infancy; son-in-law Jeff. Sylvia is survived by her children Dan (Lauri) and Karen; grandchildren Elizabeth (John), Robert (Christie), Tim, Molly, Isaac, Katrina, Taylor and Kelly; great grandchildren James, Evelyn, Carter, Ava Jo, and Liam; siblings Dolly, Norma, Nita, Linda, Sue and family friend Harriet and many other relatives and friends. Our heartfelt thanks to Laura, Paula and the many caring staff at Engel Haus.
Memorial Mass of Christian Burial was held on Saturday, December 28, 2019 at 11 A.M. at Holy Name of Jesus Catholic Church in Medina, Minnesota. Gathering of family and friends was in the church from 10-11 A.M. prior to the Mass. Inurnment was in the church cemetery. In lieu of flowers, donations to Guardian Angels/Engel Hause, Albertville, MN.