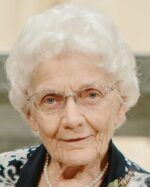 Therese A. Borrell
May 28th, 2022
Borrell, Therese Ann, age 91, peacefully passed away on May 28, 2022 in Brooklyn Park, MN. Therese was born on December 17, 1930 to Perry and Cecilia (Kiedrowski) Ditty. The oldest of the eight Ditty children, Therese was born in Minneapolis and was raised there and in Maple Plain. In 1944, the family relocated to Delano, MN. Therese started piano lessons with her mother at age 5. During high school, she taught piano lessons locally to pay for her own lessons at MacPhail College of Music. Following her graduation from Delano High School in 1948, Therese studied piano performance and music education at MacPhail College of Music in Minneapolis, graduating in 1952. She taught K-12 music in Minneapolis, Pine City, and St. Paul Public Schools in her early career. On July 9, 1955, she was united in marriage to Gerald (Jerry) P. Borrell of Waverly, MN at St. Joseph's Catholic Church in Delano. They made their first home in West St. Paul and began their family. After a few years, they moved to Delano and added to the family, raising six children. Therese taught music education at Delano Elementary School for 20 years and was the Music Ministry Director and organist for the Delano Catholic Community for over 50 years.
Throughout the course of her life, Therese taught piano and organ to countless students, including her siblings, children, nieces, nephews, and grandchildren. Therese was proud to be part of the Delano community. She used her musical talents to inspire youth to embrace music of all kinds by playing for numerous musicals, accompanying students in vocal and instrumental contests, as well as being the resident pianist for the Delano Lion's Annual Talent Contest. After retirement, Therese and Jerry built a new home on the north shore of Waverly Lake in 1998. At the lake, Therese enjoyed playing her grand piano, gardening, hosting family events, pontoon rides, bonfires, sunsets, and full moons. In 2014, they returned to Delano and enjoyed townhome living for a few years until a final move in 2019 to senior living at St. Therese Oxbow Lake in Brooklyn Park where she held piano performances for her neighbors.
Therese was preceded in death by her parents, daughter Nanette Blanchette, son Dennis Borrell, brothers Rich and Paul Ditty, sisters-in-law Donna Ditty, Lou Jandro, Marcella Borrell, Marie Borrell, and Mary Jane Borrell, brothers-in-law Dick Hemberger, Jim Stevens, Donald Borrell, John Jandro, Marion Borrell, and Danny Borrell. She is survived by her loving husband of 66 years, Gerald (Jerry) Borrell, daughters Jenine Johnson, Julie (Tony) Van Beusekom, Paula (Stuart) Pysick, son George (Mary), son-in-law Tom (Angie) Blanchette, and David Larson, 15 grandchildren and 13 great grandchildren, sisters Mary Grengs, Carol Hemberger, Nancy Stevens, Catherine (George) Kraemer, brother Tom (Barb) Ditty, sisters-in-law Ardella Ditty and Sherry Borrell, and brother-in-law Clayton (Geraldine) Borrell.
Mass of Christian Burial was held on Monday, June 6, 2022, at 11:00 a.m. at Church of St. Mary, Waverly. Visitation was on Monday from 9:00-10:45 a.m. in Parish Center Church of St. Mary. Internment was in church cemetery. The Mass was livestreamed on the Iten Funeral Home Youtube Page, through the link provided below: