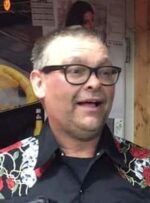 Thomas Portz
January 9, 2023
Thomas Millard Portz, age 54 of Delano, passed away in peace on January 9th, 2023. He was born on September 14, 1968, to Robert and Shirley (Riley) Portz in Minneapolis, Minnesota.
Tom graduated from Orono High School in 1987 and worked as a landscaper until he moved on to be a union carpenter. He met Melissa in 1993 and was married to her for over 20 years where they built a life in Delano, Minnesota with their two boys. Tom (Tommy, Big T) left an impression on everybody he met. He had a sense of humor and a way of making people laugh…and at times, shake their heads. He enjoyed spending time tinkering with his 1952 Chevy Styleline Deluxe car, attending car shows, duck hunting – the smell of swamp would get him so excited. He loved fishing, in his boat, up north on Big Lake, and on the ice. Most of all, he loved his friends and his boys, socializing around bonfires, and especially spending time with his dear friend Corey Cummings, over at his place.
He will be missed by all who knew him.
He is preceded in death, by mother Shirley Portz (Riley), father Bob Portz and grandparents Dolores and Herb Riley.
He is survived by sons Calvin and Ethan Portz, sister Jennifer Portz Larson (Mark) and brother Rob Portz as well as six nieces and nephews and many aunts and uncles.
A memorial service was held at 7pm on Tuesday, January 24th 2023, at the Iten Funeral Chapel in Delano, Minnesota. A time of gathering was held from 4-7pm prior to the service. Private family inurnment is at a later date.