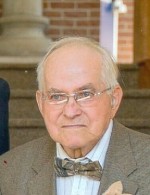 Thomas Lyrek
December 3, 2016
Thomas Peter Lyrek, "Tom" age 86 of Delano passed away on his farm on Saturday, December 3, 2016 with his family near. He was born October 9, 1930 to Peter and Elizabeth (Fake) Lyrek in Franklin Township, Minnesota.
Tom was a lifelong dairy farmer in Franklin Township. He was united in marriage on August 7, 1954 to Frances Barthel. He was a lifelong member of St. Mary of Czestochowa Catholic Church. Tom loved to make fire wood and do woodworking projects; each of his grandchildren received something from his hands.
Tom was preceded in death by his parents Peter and Elizabeth Lyrek; brothers Albert, Raymond, George and Clements; sisters-in-law Charlene Lyrek and Verla Lyrek. He is survived by his wife of 62 years, Frances; children Dianne Lyrek, Dale (Lori) Lyrek, Mark (Julie) Lyrek, Barb Lyrek, Rick (Tracy) Lyrek; 10 grandchildren Adam (Laurie) Skare, Jessica (Greg) Joseph, Matthew Lyrek, Andrew Lyrek, Thomas J. Lyrek, Scott (Shannon) Lyrek, Joseph (Carrie) Lyrek, Amanda (Aaron) Mills; Phillip Lyrek, Jonathan Lyrek; 10 great grandchildren; brother Anthony Lyrek, Duane Lyrek, Vernon Lyrek; sister-in-law Joanne Lyrek.
Mass of Christian Burial was held on Friday, December 9, 2016 at 11 a.m. at St. Mary of Czestochowa Catholic Church in rural Delano. Visitation took place on Friday from 9 to 11 a.m. in the church prior to Mass.