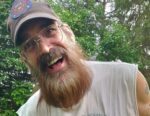 Timothy J. "Tim" Schaar
October 3, 2021
Timothy Joseph Schaar, "Tim" age 65 of Montrose passed away on Sunday, October 3, 2021.  He was born November 10, 1955 to George and Patricia (Hayes) Schaar in Watertown, Minnesota.
Tim was a loving husband, father, grandfather, son, brother, uncle and friend to many.  He enjoyed wood working, spending time with his many animals, especially his german shepherds.  Riding his motorcycle year round was something he didn't just say he did, he did.  He was a storyteller and loved to spin a story to rapt attention.  He was known to light up a room when he entered.  Another facet of Tim was that he was an accomplished martial artist. All of these interests went to the back of the line with the arrival of his grandchildren.  Spending time with the grandchildren even trumped riding his beloved motorcycle.
Tim was united in marriage to Christine Lyrek on April 29, 1989 at the Church of St. Mary in Waverly, Minnesota.
Tim was preceded in death by his daughter Angela Schaar; as well as his grandparents and many other family members.  He is survived by his wife of 32 years, Christine; children Travis Schaar, Sarah Schaar, Hannah Schaar; 4 grandchildren Zander, Liam, Myla and a granddaughter arriving shortly; parents George and Patricia Schaar; siblings Steve (Michelle) Schaar, Sue (John) Hamel, Rita Decker (Bob Brown), Vanessa (Matt) Zimmerman; as well as many nieces, nephew, cousins and friends.
Memorial Mass of Christian Burial was held on Friday, October 8, 2021 at 11 a.m. at the Church of St. Mary in Waverly, Minnesota.  Gathering of family and friends was held in the church parish center on Thursday from 4 to 8 p.m. and continued on Friday from 9:30 to 10:45 a.m. prior to the Mass.  Inurnment was in the church cemetery.