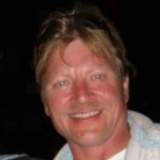 Troy D. Makela
July 2, 2019
Troy Donald Makela, 55, of Loretto, entered God's eternal home on Tuesday, July 2, 2019 after a long, hard-fought battle with cancer.
Troy was born on April 24, 1964 in Park Rapids, MN to Donald and Jane Makela. Troy graduated from Virginia High School in 1982 and attended Mesabi Range College and St. Cloud State University. He worked with his dad at Queen City Construction for many years.
Troy loved spending time outdoors, hunting, fishing, music, and competitive games. He also loved to travel.
Troy was a devoted husband to his wife, Cathy. He was a loving son and shared a special bond with his brother, Brian, who was always by Troy's side when needed.
Troy will always be remembered for his humor, his laughter, and his love for others—always putting their needs first.
Troy is survived by his wife: Cathy; step-children: Heather Krussow, Michael Krussow; mother: Jane (Geno) Halberg; brother: Brian (Missy) Makela.
He was preceded in death by his father, Donald Makela; grandparents; one aunt; and several uncles.
A memorial service was held on Friday, July 12 at 2:00 pm at Range Funeral Home in Virginia. A gathering of family and friends was one hour prior to the service.