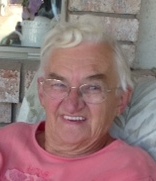 Viola Braegelmann
April 11, 2016
Viola K. Braegelmann, age 81 of Delano, went to be with her Lord and Savior on April 11, 2016. She was born on August 27, 1934 in Blue Earth to Ben and Evelyn (Zutz) Donnay.
Viola was a loving wife, mother, grandmother and great grandmother. She was a 4-H leader for many years, an active member of St. Peter Catholic Church and a member of the Homewreckers Club. Viola enjoyed listening and dancing to Old Time music. She loved to garden, cook, socialize, play cards and don't forget the chocolate ice cream.
Viola was preceded in death by her parents, son Jerry, 2 infant siblings and brother-in-law Pete Bautch. She is survived by her husband of 63 years Fritz; children Judy (Mike) White, Joan (Marty) Nimerfroh, Jim (Mary Jo) Braegelmann, John Braegelamnn, Jay (Clari) Braegelmann, Joe (Vicki) Braegelmann and Janice (Jeff) Schweiss; 18 granchildren Jamie (Paul) McCullough, Jodi White, Justin Mielke, Erin (Nick) Czech, Kerri (Nathan) Metz, Jordan Braegelmann, Krista Braegelmann, Jessica (Paul) Muckenhirn, Jacqueline Braegelmann, Jake Braegelmann, Mandi (Jeff) Brown, Alex (Brian) Juhnke, Abbi Braegelmann (fiancé Mitch Kelzer), Jesse Braegelmann, Jacob Schweiss, Jack Schweiss, Josh Schweiss and Jared Schweiss; 11 great grandchildren Madelyn Czech, Claire Czech, Lily Czech, Ayden Metz, Colynn Matti, Lucy Matti, Natalie McCullough, Everett Brown, Ella Brown, William Ferguson and Gretchen Juhnke; siblings Roland (Rita) Donnay, Audrey (Jim) Hennen and Ivone Bautch.
Mass of Christian Burial was held on Tuesday, April 19, 2016, 11 am at St. Peter Catholic Church in Delano. Visitation was Monday from 4-8 pm with 3:30 pm Rosary and 7:30 pm Prayer service and continued Tuesday, 10-11 am prior to Mass ALL at Martha's Hall of St. Peter Catholic Church.