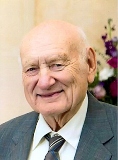 Willard E. Oestreich
May 10, 2017
Willard Emil Oestreich, age 87 of Delano, passed away on Wednesday, May 10, 2017 at the Ridgeview Medical Center in Waconia. He was born on February 20, 1930 in Watertown, Minnesota to Emil and Elizabeth (Kaeppe) Oestreich.
Willard was a life-long resident of Delano. He served in the U.S. Army during the Korean War. Willard was united in marriage on June 26, 1954 to Vernita "Nita" Koecher at St. Paul Lutheran Church in Hanover. They enjoyed dancing and listening to Polka music and traveling.
Willard worked as a butcher for 71 years at Rieder's Meats. He was a lifetime member of the Delano American Legion Post #377. He was known as "the can man" for his collecting cans around town. He enjoyed attending "Music in the Park". Willard most of all loved spending time with his grandchildren.
Willard was preceded in death by his parents, wife of 61 years Nita. He is survived by his daughters Karen Carlson and Linda Fabian; 5 grandchildren Sara Bialke, Angie (Kevin) Carlson, Bobbie (Dave) Willenbring, Christopher Oestreich and Kelly (Jerry) Whalin; 5 great grandchildren Adam and Gage Zaccardi and Kalia, Angel and Mattie Mae Brown; brother-in-law Arlyn (Kathy) Koecher.
Funeral services were held at 11 a.m. Saturday May 13, 2017 at St. Paul United Church of Christ in Delano, Minnesota. Visitation was on Saturday from 9:30-11 a.m. at the church prior to services. Interment was in the church cemetery.