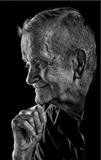 William E. Eppel
June 7, 2018
William E. "Bill" Eppel (aka "Mr. Delano), died peacefully on Thursday, June 7, 2018 from congestive heart failure. Bill was born on January 3rd, 1932 to John "Jack" and Teresa "Tessie" (Dahlheimer) Eppel in Delano, MN, so small he slept in a dresser drawer.
Bill grew up on the family farm and graduated from Delano High School, Class of 1949. He married Lenore Motzko and their union was blessed with four children. Bill worked at Honeywell for several years before returning to his hometown to hold various positions including bus driver, parts delivery, auctioneer's assistant, and to pursue his passion – that of collecting Delano memorabilia and dedicating his time to the history of the town.
Bill put together a family history book for each of his children, assisted others on their historical projects, and provided historical photos for events and display, including for the movie "A Simple Plan."
Bill loved to meet and commiserate with his friends at Coborn's, and for many years was a fixture at the deli there. He enjoyed his fellow historian friends, meeting friends at Flippin' Bill's and later Coborn's for cards and coffee, and chatting with all the gals at Coborn's. He is missed by many.
Bill was preceded in death by Lenore and his parents. He is survived by his children Kathryn (Katie) Weber, Phoenix, AZ; Richard (Lara) Eppel, St. Louis, MO; Lisa (Michael) Spencer, Buffalo, MN; and John Eppel, Owatonna, MN; 9 grandchildren, 2 great grandchildren, and friend Laurie.
A Memorial Mass of Christian Burial was held at 11 a.m. on Friday, June 29, 2018 at St. Joseph's Catholic Church in Delano. A Gathering of family and friends was held on Thursday, June 28, 2018 from 4 – 8 p.m. and continued on Friday, 10-11 a.m., prior to the Mass ALL at the church. Inurnment was in the church cemetery. A luncheon followed in the church hall after the cemetery.