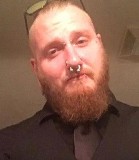 William J. Veaderko
January 21, 2018
William Joseph Veaderko age 27 of Minneapolis found the peace he so desperately sought. Many knew him as Nate L. Mass. He was an avid vocalist, skateboarder and into anything death defying. He was a Chef and he sought to make people happy through food.
Will loved his family, especially the nephews. He had a big heart, the tough man persona and a heart of gold; he would go to any length to help anyone in need.
Will is survived by his mother Wendy; sister Nycole (Adam) Anderson; nephews Dylan and Trevor; fianceé Katy Kwiatowski.
A Celebration of Life was held on Sunday, January 28, 2018 from Noon-4 PM at Jake's City Grille, 3005 Harbor Ln N. Plymouth, Minnesota.