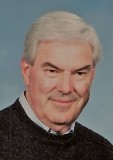 William Daly
June 4, 2017
Daly, William James "Bill", age 86 of Loretto, died on Sunday from Alzheimer's. Bill was the very best kind of man… gentle, kind, empathetic, self-assured, intelligent, humble and altruistic. He was a family man above all things. He had a great work ethic. He could smear us all at Trivial Pursuit and then spend hours behind the wheel of the speed boat pulling us around on water skies. He was a grilling King but never cooked; preferred not to be the center of attention yet drove a red Cougar; was a home-body yet traveled to Ireland with his sons and had the time of his life! He was an avid reader and a huge fan of any sporting event, especially the Vikings, Twins and pro golf. He played some golf, loved to claim to be a fisherman (though rarely wet a line), enjoyed snowmobiling runs with the Snowbirds club and enjoyed the lake life in general. He was meticulous in any project but was NOT a DIY guy. He loved a spirited game of Hearts. He enjoyed a good meal and had quite a sweet tooth. Bill was a devout Catholic, preferring the old fashioned practices…think Latin Mass.
Bill was born in Rochester, MN to a wonderful and close family. They moved to Mpls and he graduated from South West HS, having run track and played basketball. He joined the Navy and served for 4 years stateside. He then attended the U of M studying accounting. Bill enjoyed a good party, and at one of these he met Janice Monnie, and married her in 1960. His work history includes only 3 companies, as longevity and loyalty where his middle names. The family moved out to Lake Sarah near Loretto in 1972 and joined SS Peter and Paul Catholic Church. Bill was an active member of the church finance council for many years. He was also active in the boys' youth hockey programs.
Bill is preceded in death by his parents, John Paul and Lenore (Hoffman) Daly, his siblings Robert (Bob) Daly, Richard (Dick) Daly and Mary Catherine Johanns, and his son Daniel William Daly.
Bill is survived by his wife of 57 years, Jan (Monnie) Daly; 5 children, Colleen (Kevin) Wald, Shannon (Ron) Winterhalter, Megan (Jeff) Dobberpuhl, Tim (Tracy) Daly, and Sean Daly; 19 grandchildren and 3 great grandchildren; 2 nephews and 3 nieces.
Mass of Christian Burial is at 10:30 a.m. on Friday, June 9 at Ss. Peter and Paul Catholic Church, Loretto. Visitation from 9:00-10:30 a.m. on Friday prior to Mass.