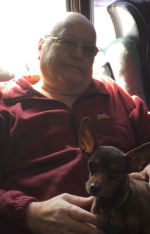 William (Bill) Bukowski
April 25, 2018
William Lambert Bukowski, "Bill" age 74 of Rockford/Loretto area, passed away on Wednesday, April 25, 2018. He was born July 16, 1943 to Lambert and Helen (Van Lith) Bukowski in Wayzata, Minnesota.
Bill was raised on the family farm by Lake Sarah. He enjoyed spending time in the outdoors, hunting and fishing. He liked to watch wrestling and old western TV shows. Playing cribbage was another past time. He loved his family and his dogs.
Bill was employed in logistics in the transit industry. He was united in marriage in February of 1970 to JoAnne Grife.
Bill was preceded in death by his parents Lambert and Helen Bukowski; sisters Linda Franzen, Kathleen Woollard; brother Thomas Bukowski; nephew Todd Ristau and Bret Woollard; brothers-in-law William Woollard, Joseph Faue, John Franzen.
Bill is survived by his children: son Brandon Bukowski, daughter Billie Jo (John) Helcl; grandson Jack Helcl; siblings Susan (Dave) Ristau-Pawlitschek, Nancy (George) Choban, Carol Faue, Julie (Sam) Zimmermann, Jody Nelson, Connie (Larry) Leuer; mother of his children JoAnne Bukowski; as well as many nieces, nephews, relatives and friends.
Mass of Christian Burial was held on Tuesday, May 1, 2018 at 11 a.m. at Ss. Peter and Paul Catholic Church in Loretto, Minnesota. Visitation took place in the church for 1 hour prior to the services from 10 to 11 a.m. Interment was in the church cemetery.