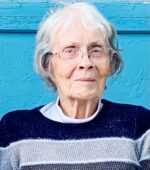 Yvonne Miller
June 16, 2022
Yvonne D. Miller, age 93 of Loretto passed away on Thursday, June 16, 2022. She was born May 26, 1929, to Maurice and Nellie (Moses) Lucier in Burschville, Minnesota.
Yvonne was an amazing woman, a loving wife, a wonderful mother, grandmother, and great grandmother. She was blessed with the ability to do anything she set her mind to. Yvonne always had a quick smile, a quick wit, and a way with words. She had a very kind and caring way about her and was loved by both family and friends.
Yvonne was united in marriage to Wilfred P. Miller on June 18, 1946, at Ss. Peter and Paul Catholic Church in Loretto, Minnesota. She was a businessperson her entire life and worked side by side with her husband Wilfred in their company, Hanover Sand & Gravel.
Yvonne was preceded in death by her husband Wilfred; parents Maurice and Nellie Lucier; sister Vivian Weinand; and son-in-law Charlie Barrett. She is survived by her children Martin (Joan) Miller, Dianne Barrett, Claudia (Dale) Stack, Duane Miller, Loren Miller (Linda Bruhn); 17 grandchildren and 18 great grandchildren.
A Celebration of Life for friends and family was held on Saturday, June 25, 2022, from 3-5 p.m. at the Iten Funeral Chapel in Delano, Minnesota, with a memorial service at 5 p.m.
Private family inurnment was in the Ss. Peter and Paul Cemetery in Loretto, Minnesota following the service.