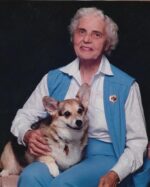 Carolyn S. Carbonell
August 25, 2023
Carolyn Swan Carbonell, 98 of Delano, Minnesota, passed away quietly at home on August 25, 2023. She was born on January 20, 1925, in Minneapolis, Minnesota. She was raised in a log cabin that her father built in Minnetonka, Minnesota. They raised turkeys and did truck gardening with horses. She graduated from Excelsior High School in 1942. She worked at Honeywell during WWII. She was half owner of Lowry Grove Mobile Manor. She was a founding member of MAHA, (Minnesota All Arabian Horse Association), and a long time member of the Wright County Kennel Club.
Carol was an accomplished horsewoman and huge animal lover. She raised many German Shepherds and later had Pembroke Welsh Corgi's. She also had cats, rabbits, an occasional bird, dogs, and more. She liked old time music, country music, and attending local musician's gigs. She was active in the Redhats group for many years. She also taught dog obedience.
She was preceded in death by her parents Dorris and Searle Swan, and brother Hobart Swan. She is survived by her daughter Connie Okragleski; son Vincent Carbonell; grandsons Matthew Okragleski, Jacob and Justin Rasmussen, and niece Cindy Swan-Henderlite (John).
A celebration of life was held at 1 PM on September 9, 2023, at the Iten Funeral Home in Delano, Minnesota. A gathering of friends and family was from 12 PM – 1 PM prior to the celebration. Memorials preferred to the donor's favorite charity.