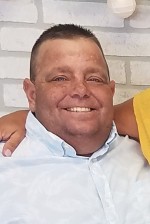 Chad Wandersee
August 20th, 2020
Chad Duane Wandersee, age 46 of Delano died peacefully at Abbott Northwestern Hospital on August 20, 2020 surrounded by family. He was born on December 5, 1973 to Duane and Julie Wandersee in Waconia, MN.
Chad graduated from Delano High School in 1992. He went on to a career in meat cutting at J&B Meats in St. Michael. For the past 3 years, he worked at Tom Thumb in Hanover where he enjoyed interacting with customers. During these years, he truly loved working with the Hansons, both Jon and Matt. Chad was united in marriage to Ann Marie Schumacher on May 5, 2001.
Chad was a loving and devoted husband. He cared deeply for his family and friends. He loved sports, especially the Vikings. Golf was a passion; his golf group was referred to as his "St. Paul Buddies". He also enjoyed ice fishing with friends. Chad was a good cook. He loved to man the smoker and cook for his family and friends. He had a special place in his heart for his dogs; most notably Kirby. He also had a genuine love for our flag and the utmost respect for those who serve or have served in the military.
Chad was preceded in death by his grandfather Marvin Jefson; grandparents George and Lydia Wandersee; aunts Karen Wandersee and Dena Zarbano; mother-in-law Yvonne Schumacher; brother-in-law Bill Schumacher. He is survived by his wife Ann; parents Duane and Julie Wandersee; sister Jody (Mike) Kosek; nephew Ryan (Katie) Kosek; grandmother Joann Jefson; father-in-law Don (Beverly) Schumacher; brothers-in-law and sisters-in-law Wanda Schumacher, Tom Schumacher, Paula Schumacher, Bob (Marge) Schumacher, Gene Schumacher, Rose (Joe) Nichols, Don Schumacher as well as nieces and nephews Anna, Jon, Sam, Zach, Max, and Mary Schumacher.
Private Family Memorial Service was held at St. Peter Catholic Church in Delano. Urn Bearer was Mike Jaunich. Honorary bearers were Shawn Sullivan, Scott Voss, Ben Moonen, Tim Kraemer, Kim Spike, Amy Poppler, Barb Wegman, Steve Eilen, Mike Elsen and Marty Howes. Gathering of family and friends took place on Friday, September 4, 2020 from 4-8 PM at the Iten Funeral Home in Delano, Minnesota. Inurnment was in the Calvary Cemetery in Delano, Minnesota.
In lieu of flowers memorials to the National Kidney Foundation: https://team.kidney.org/campaign/In-Memory-of-Chad-Wandersee.
A video of the Memorial Service can be found through the link provided below, or found on the Iten Funeral Home YouTube page.