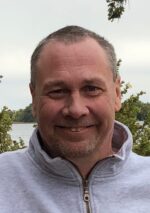 Jeffrey A. "Jeff" Kvam
September 27, 2021
Jeffrey "Jeff" Alan Kvam, age 55 of Rockford, MN passed away unexpectedly of natural causes on Monday, September 27, 2021 in Benson, MN.  He was born May 19, 1966 in Farmington, MN to James and Betty (Rasmussen) Kvam.   Jeff grew up in Bagley, MN and graduated from Bagley High School in 1984.  He attended St. Cloud State University and obtained a Bachelor's degree in Business.  His professional career was working for 33 years at MWCIA (Minnesota Worker's Compensation Insurer's Association) in various underwriting positions.
Jeff was united in marriage to Veronica Krueger on August 11, 1990 in Bagley, MN.  They currently reside in Rockford, MN.
During his younger years in addition to participating in various sports, Jeff was also an avid fisherman and hunter.  He often traveled back to Northern MN to enjoy these activities with his family.  When Jeff was diagnosed with cerebellar ataxia a few years ago, he always enjoyed everyone sharing stories and pictures even though he was not able to participate.   Jeff was very proud of his Norwegian heritage and embraced learning about his ancestry.   He was also committed to acknowledging anyone who was in the military and served our country.   Any veteran he ever met was always told 'Thank you for your service'.
Jeff was an enthusiastic sports fan.   He loved cheering on the MN Wild and SCSU hockey teams as well as watching pro golf, football and baseball.  Jeff was also an avid music listener of all genres; one could always find him on the front porch in the afternoon enjoying his music and visiting with the neighbors.
Jeff and Veronica enjoyed many things together as a couple; most importantly just spending time and visiting with family and friends.  Various trips to Florida and throughout Minnesota hold special memories.
Jeff is survived by his loving wife of 31 years Veronica; cherished parents Jim & Meta Kvam and Betty & Ed Rasmussen; special brother Chris (Amy) Kvam; nieces Lauryn, Vanessa & Julia Petrich; mother-in-law Esther Krueger; sister-in-law Dorinda Krueger with whom he had a special bond; brothers-in-law Jason Krueger and Eric Krueger; numerous aunts, uncles, cousins, step siblings and their spouses as well as extended family and friends who were all part of his family.  Jeff was preceded in death by daughter Karlee Ann, grandparents, aunts, uncles, cousins.
Gathering of family and friends was held on Friday, October 8th from 4-7 pm at the Iten Funeral Home, 300 Third St N, Delano, MN.  A Celebration of Life will be held on Saturday, October 9th from 1-5 pm at Clays Restaurant, 8900 Walnut St, Rockford, MN.  A brief pastoral message and moments of recollection will take place at 1:00.   We would like to remember Jeff's love of sports by encouraging guests to wear their favorite team's apparel. Inurnment will take place at a later date in Bagley, MN.
In lieu of flowers; we kindly request to send memorials to The National Ataxia Foundation; website www.ataxia.org