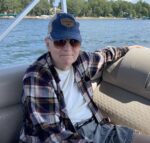 John L. Anderson
August 15, 2023
John Leslie Anderson of Delano, MN passed away quietly with his family by his side on August 15, 2023 at the age of 80. John was born on November 30, 1942 in Minneapolis, MN to Ralph and Bernice Anderson. He had one older brother, Rodger Anderson. He grew up in Robbinsdale and graduated from Robbinsdale High School.
He enlisted in the Navy and served in the Vietnam war from 1964-1966. He worked on flight deck of the USS Ticonderoga as an airman directing planes. When he returned, he married his first wife Donna Miller in August of 1966 in Roseau, MN. While being newly married he attended St. Cloud State University and graduated with a marketing and business degree in 1970. John sadly lost his first wife and twin sons during childbirth complications in August of 1970.
John moved to Olivia, MN and worked as a customer service manager at Trojan Seed Company where he met his wife Wendy Faiman of 50 years. John and Wendy were united in marriage on December 2, 1972, in Olivia, MN. They were blessed with three daughters: Sarah, Nikki, and Abby. They enjoyed raising their family in Delano. Through the years they cherished spending time with many great friends, traveling, and watching their grandchildren grow up. Not only did John have a huge love for his family, but he also had a love for all animals and was known by many as a dog whisperer. He was a faithful Vikings fan. John always had a joke or a story to share to get a laugh out of everyone. His compassion for others, especially those whom needed it, was second to none. He always put others before himself. John has persevered through the last 80 years with strength and love for the Lord. He is a child of God and a great example to anyone who knew him.
John is survived by his wife, Wendy. His daughters Sarah (Todd) Thiewes of Carver, MN, Nicole (John) Rief of Chaska, MN, and Abby (Wayne) Brenny of Delano, MN. His grandchildren Ava and Lucy Thiewes, Danielle, Cierra, Dawson Rief, Hunter and Bryce Brenny; sister-in-law Janet Anderson; brother-in-law Todd (Mary) Faiman, as well as many nieces and nephews, family and friends.
John was preceded in death by Donna (Miller) Anderson and twin sons, his parents Ralph and Bernice Anderson, Brother Rodger Anderson, mother and father-in-law; Jerry and Virginia Faiman.
Visitation was held on Monday August 21st from 4pm -7pm at Iten Funeral Home 300 N 3rd Street Delano, MN. Celebration of Life at Light of Christ Lutheran Church in Delano took place on Tuesday August 22nd at 11 am with visitation one hour before service. Inurnment at Fort Snelling National Cemetery at a later date.
"And let us run with perseverance the race marked out for us, fixing our eyes on Jesus, the pioneer and perfecter of faith." Hebrews 12:1-2