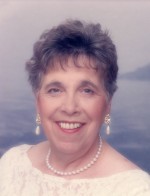 Marie Moonen
July 3, 2020
Marie K. Moonen, age 88 of Delano.
Marie "Micky" Kathryn (Weibel) Moonen passed away on the evening of Friday, July 3rd, at Lake Ridge Care Center in Buffalo, Minnesota.
She was born May 26, 1932 to Edward and Emma (Koppel) Weibel of Waverly, Minnesota.
Marie married LeRoy Moonen on October 6, 1962 and eventually settled in Delano to raise their family. They had four children, Kevin (Michelle) Moonen, Lisa Moonen (Ted Rassatt), Colleen (Greg) Litfin, and Brian (Melanie) Moonen.
Marie worked several jobs but is remembered for her tenure at Cargill Inc, in Wayzata where she ran multiple large copying machines until her retirement. It wasn't until after retirement that she found her most rewarding career, which was before and after school care for her Litfin grandchildren.
Her hobbies included crocheting, baking, volunteering for the Delano Ladies Fire & Rescue and being a member of the Delano American Legion Auxiliary.She was always willing to lend a hand and was generous with her time and talents.
Marie was preceded in death by her husband LeRoy Moonen, parents Edward and Emma Weibel, sister Dorothy Muckenhirn and brother-in-law Willard Baumann.
Left behind to cherish Marie's memory are her four children, eight grandchildren (Brandon (Kassy) Moonen, Kaitlyn Moonen, Adam Moonen and Trevor Moonen, Carissa (Chase) Sievers, Nicole (Patrick) Honl and Bryce (Jasmine) Litfin and Connor (Sarah) Litfin, five great-grandchilren Carter Auspos, Ava Sievers, Aubrey Sievers, Audrey Krueger and Harper Marie Moonen; who is scheduled to arrive in August, as well as a host of in-laws, nieces, nephews, neighbors, and friends.
Marie was deeply loved by her family and community and will be greatly missed.
Gathering was on Thursday, July 16, 2020 at the Iten Funeral Home in Delano from 4:00 – 8:00 PM.
A Private Family Memorial Mass of Christian Burial took place on Friday, July 17, 2020 at 11:30 AM at St. Peter Catholic Church in Delano, Minnesota. Inurnment took place in the Calvary Cemetery in Delano, followed by a luncheon at B's on the River in Watertown.
In lieu of flowers, memorials are preferred.