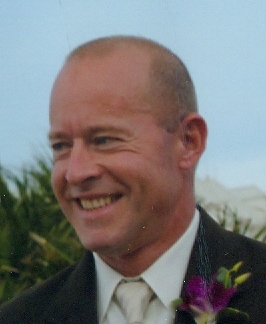 Myron Duane Schlosser age 46 of Loretto died tragically in an automobile accident on Wednesday, March 4, 2015. He was born May 16, 1968 to Leonard and Bernice (Doboszenski) Schlosser in Buffalo, Minnesota.
Myron was a beautiful person, an avid fisherman, a sports fan and great impersonator of his family and friends. He was united in marriage on October 11, 2014 to Ellen Mary LeRoy in South Padre Islands, Texas.
Myron served his country, serving in the Army for 20 years, achieving the rank of Sergeant First Class and serving during Operation Iraqi Freedom and Operation Enduring Freedom being honorably discharged in 2006. He was employed as a union electrician and was a member of IBEW Local # 292. He was a member of the Knights of Columbus as well as a member of Ss. Peter and Paul Catholic Church.
Myron was preceded in death by his father Leonard "Junior" Schlosser; father-in-law William LeRoy; brother-in-law and sister-in-law David LeRoy and Brenda LeRoy; and a nephew Jared Schlosser.
He is survived by his loving wife Ellen; mother Bernice (Doboszenski); siblings Duane (Karen) Schlosser, Bernadette (John) Grenzer, Joe Schlosser, Jerome (Rita) Schlosser, Jean Schlosser (Ernie Mayers), Julie (Mike) Windsperger, Vernon (Cheryl) Schlosser, Donna (Jim) Russell, Betty Korthof, Dale Schlosser, Lee (Paula) Schlosser, Tom Schlosser; mother-in-law Rosemary LeRoy, brothers-in-law Bill (Eileen) LeRoy, John (Carla) LeRoy, Martin (Lauren) LeRoy; as well as many nieces, nephews, cousins and dear friends; and his loving pet Chuy-Lopez.
Mass of Christian Burial was held at 11 a.m. Monday at Ss. Peter and Paul Catholic Church in Loretto Minnesota. Visitation was from 4 to 8 p.m. on Sunday at the Iten Funeral Home in Delano, Minnesota. Visitation continued on Monday from 10 to 11 a.m. at the church prior to the Mass. In honor of Myron's life and love of fishing, the family is establishing a foundation that will help disabled and elderly Veterans enjoy the sport of fishing.