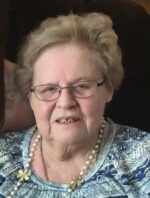 Beverly V. Lange
July 28th, 2022
Beverly Violet, age 87 of Delano, passed away July 28, 2022. She was born on December 11, 1934 in Montrose, Minnesota to Edward and Mabel (Dalbec) Splettstoeszer. She married Clifford Lange on June 16th, 1954. A year later they welcomed their first daughter, Wendy, followed by Tammy, five years later. She was a loving mother, grandmother and great grandmother always sharing her hugs and warm smile. She and Clifford had an adventurous spirit, traveling when they could with other family members. She was a lovely woman who made sure her family was always taken care of. In 2003 they moved off the farm and built their dream home in Delano, where they shared 13 more wonderful years. In total they shared 61 years of blissful marriage often remembered holding hands. Hours before she passed, she called out, "Clifford, I'll be there soon." She passed peacefully surrounded by family members holding her hands.
Beverly was preceded in death by her husband Clifford, daughter Wendy Stieve, siblings Stan Splettstoeszer, Ethel Mahlsted, Eleanor Krueger, Donna Schmaedeka and Norman Splettstoeszer.
Beverly is survived by her daughter Tammy (Brian) Sevigny, grandchilden Nichole Stieve, Jessica (Dustin) Schrupp, Courtney (Joe) Volby, Rylee Sevigny, Collin Sevigny and great-grandchilden Eja Volby, Dominic Volby and Samuel Volby.
The Funeral Service took place at 11 a.m. on Wednesday, August 3rd, 2022 at Mount Olive Lutheran Church, Delano, MN. Visitation was held from 9-11 a.m. prior to the service. All events occurred at the church. Interment was in East Mount Olive Lutheran Cemetery, Delano MN.